It's that time of the year again - the long awaited Christmas season! As one of the most celebrated holidays throughout the year, Christmas festivities require planning ahead (way ahead). Save yourself the time and effort with our Christmas checklist and you'll be ready for the festive day in no time!
1. Start Early
Getting a jump start on your Christmas shopping in November might seem a bit early, but it can genuinely make your holiday preparations smoother. And don't worry, the early hustle means more time to enjoy the festive vibes without the last-minute chaos!
2. Put up your Christmas tree
The gift-bearing tree has always been part of the tradition and definitely gives off a certain vibe. This year, try upgrading your tree decorations and maybe even do a little DIY instead of the classic ribbons and ornaments to make it more personal to you and your family.
3. Get your decor game on
One of the best things about Christmas is decorating your home. Who doesn't love colourful lights to liven up their home? Put on your favourite Christmas jams and decorate away!
4. Time for a gift-wrapping frenzy!
Wrapping gifts is always a fun time but it can be time consuming. Plan your gift hunting in advance and you'll have ample time to wrap it all before the big day. Remember to pull out your most festive wrappings to make it all look nice under the tree of gifts!
5. Plan a festive feast
Heavily associated with gatherings and festivities, no holiday is complete without a grand feast to celebrate. Whether you're celebrating with your family, friends or even coworkers, BellyGood presents an exciting range of festive Christmas menus - perfect for any group of people. Read on to find out which festive menu you should splurge on this season!

a.) Christmas Party Sets
Hosting an intimate gathering of your closest family or friends? BellyGood's Christmas Party Sets are available in Western Sets for a delicious array of western dishes and Asian Sets for mouthwatering Asian cuisines. Perfect for up to 10 persons, enjoy a delicious feast starting at $388 per set. If you're in the mood for additional servings, we have a fine selection of a la carte options to complete your Christmas Party Set.
b.) Festive Bentos
Christmas office parties are definitely a recurring event, and boy does it require a ton of food! To make your events more efficient, try our Christmas Bentos available on Western and Asian menus for a minimum order of 20 sets starting from $35 each. Offering carefully curated dishes, our Christmas bentos are ideal for getting your Christmas party going and keeping your coworkers' bellies full!
c.) Christmas Buffet
When Christmas calls for more larger and formal events, a grand buffet is just what you need! For a great party of hassle-free meals with great servers, BellyGood's buffets are offered in both Jolly Western and Joyous Asian menus. Available to order for a minimum of 30 persons at only $38 each, BellyGood buffets are crafted deliciously to fill the hungry bellies at your office party. Enjoy BellyGood's Seasonal Platter, a lovely collection of entrees, desserts, and a choice of beverages for both Western and Asian menus.
Upgrade to a premium Western or Asian buffet for a minimum of 50 persons, starting at $55 per person. Enjoy a festive selection of Christmas entrees, a refreshing mesclun and lettuce salad bar, an array of finger-licking desserts, and a refreshing choice of beverages for the ultimate Christmas feast.
d.) Special Buffet
If you think our buffet options are limited, let us introduce you to our special buffet! It's the perfect choice for hosting a grand event with a minimum order of 100 persons at only $30 each. From delectable appetisers to mouth-watering main courses and these exquisite desserts, each dish offers you a Christmas celebration that's both memorable and delightful.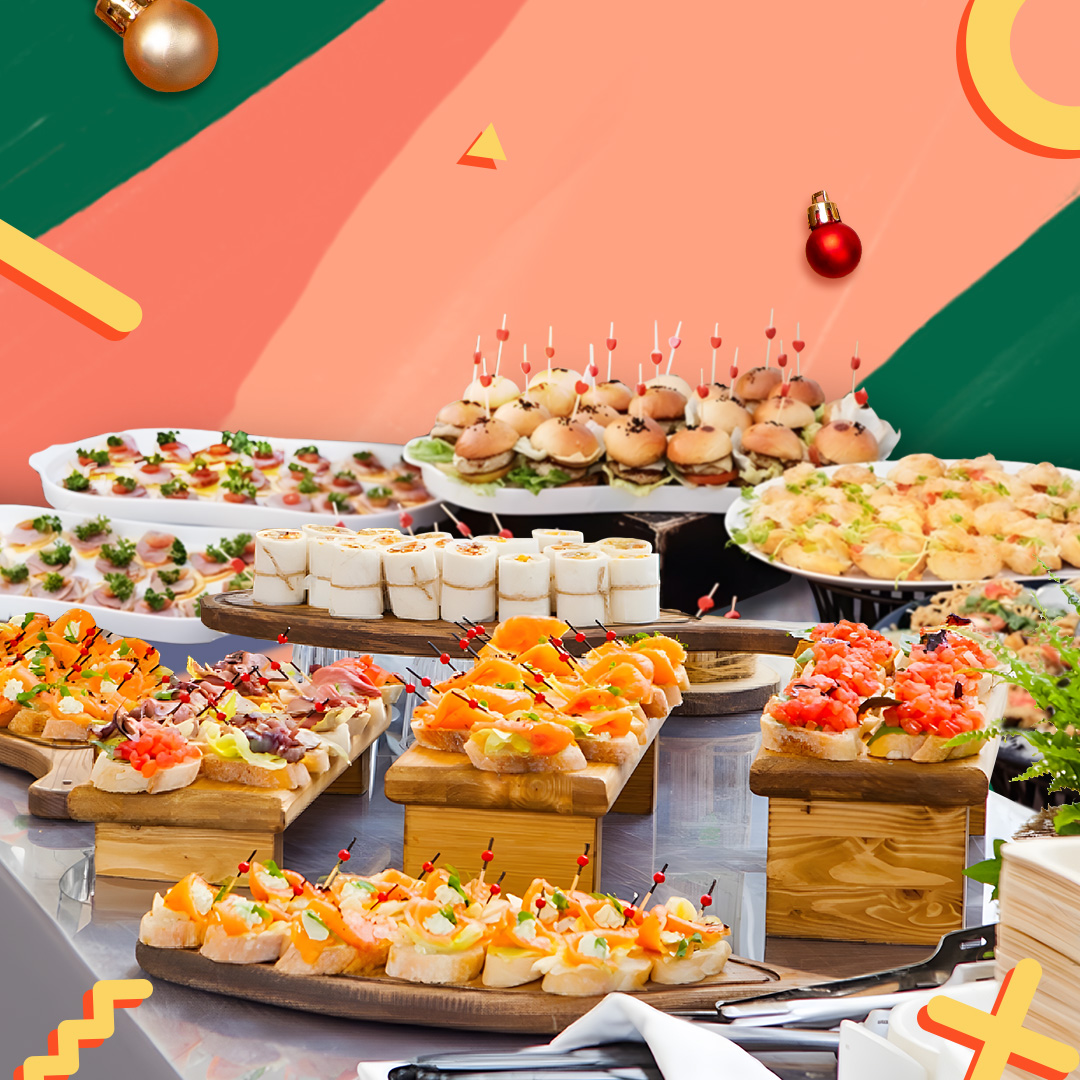 d.) A La Carte
If you're in the mood for a traditional, festive dish to sum up your Christmas feast, BellyGood has a lovely selection of a la carte dishes. Ranging from glazed chicken to roasted turkey for an all-around Christmas feel, consider ordering a special dish for your holiday festivity starting from $68. Treat yourself to BellyGood's Handcrafted Chocolate Festive Log Cake for a sweet way to end your party.

Hosting a Christmas party this year? Transform your party - large or small - with BellyGood's Christmas menus and enjoy an exclusive 15% OFF on Christmas menus with promo codes:
This special offer is valid for bookings placed by 10th December and is exclusively for Citibank and UOB cardholders. Our Christmas menus are available for delivery from 2nd December 2023 through 1st January 2024, so be sure to pre-order your Christmas feast soon and click here for the complete list of our Christmas menus!